To make a purchase with reseller discount you should use our new reseller panel.
Web address of Reseller Panel: http://partners.elcomsoft.com
Important information!
Purchasing with Share-It reseller panel is now disabled.
If you are already registered as ElcomSoft's reseller, you can recover or gain access to the new reseller panel using the following link: http://www.elcomsoft.com/partners/restore_password.html. You should indicate your email address that was used for your reseller account registration. We will send your login and password to this email. If you still could not recover your access to your account in the new reseller panel, please email us at sales@elscomsoft.com .
In order to register as our reseller you should use the following link: http://www.elcomsoft.com/partners/register.html. After we consider your application during a couple of days you will receive an email with access information to login into your reseller account at the email address you provided.
After logging into your account in Elcomsoft Partner Panel you will see your saved company profile. On the right side of the page you will see a list of tasks: Purchase as a partner, Invoices, How-to-order guide, etc.
To place an order, go to Purchase as a partner. You will see an online form for a new order and a list of our products below. Choose the necessary products and enter order details as required.
Providing data for new orders
In Reseller Panel in section Reseller Information you can see the name of your company and your partner discount. To complete a new order, please choose a contact from the list that will be responsible for the new order.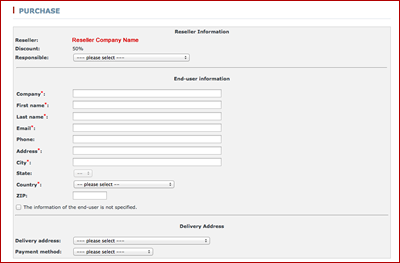 In section End-User Information you should enter details of the license end-user. Since a number of our products require physical delivery via regular mail, we need postal address of the receiver. End-user information is confidential and is also required to identify the rightful license ownership in order to provide technical support to the end-user. You can also choose "the information of the end-user is not specified", however please note that in this case you take over some obligations, as we won't be able to identify the end-user.
3. Electronic and physical delivery address
You can order license delivery to end-user (if end-user data were indicated) or reseller (your company). You should choose preferred delivery address in the field Delivery address.

IMPORTANT!
If the license requires physical delivery (e.g. CD or USB dongle), all relevant electronic and physical materials will be sent to the address indicated in this field. End-user address should be specified in section End-user information, whereas reseller's address is taken from the reseller's profile (you can check reseller's address using the following link: http://partners.elcomsoft.com/partners/cp/profile.html).
Please note: if you choose delivery to the end-user address, you will still get a copy of an email with license details to the reseller email address.
Please choose the desired way of payment in the field Payment Method.
In order to purchase using online payment, choose Online Payment in the field Payment Method. Once your cart is complete, you will be redirected to our online payment service partner - ShareIt (Digital River GmbH) – where you will see your order details. In the field Personal Information you will see your company details used to prepare order documents that will be available right after order completion in section Invoices in your account.
Please don't enter end-user details here! This form is only for reseller information.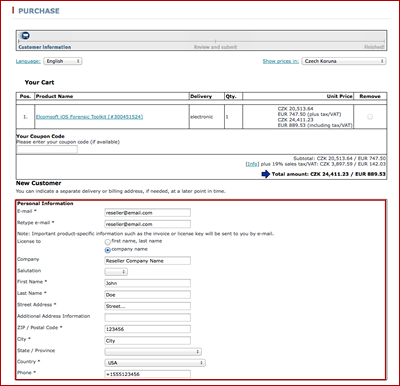 At the final step of your purchase you can get a proforma/invoice from ShareIt/Digital River GmbH for your records.
At the stage Review Your Data of your order please do not pay attention to the delivery address there, because it will always be reseller's address, so don't change it into end-user address if you want to order delivery directly to the end-user.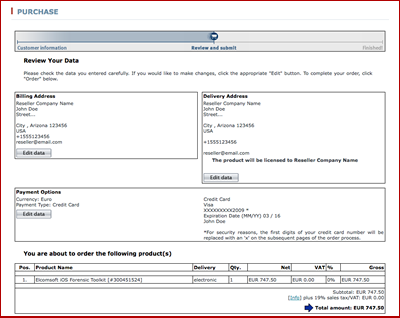 The license and all relevant materials will be sent to the delivery address indicated at the initial stage when you were completing your product cart and before you were redirected to ShareIt page (see point 3. Delivery Address)

After your online payment a copy of an email with order confirmation will be sent to the reseller at the email address of the responsible for this order.
Choose Invoice/Quote (Wire Transfer) in the field Payment Method in order to get a price quote. After you choose to pay with wire transfer and press Order Now!, your price quote will be issued. You can download this document as PDF file in section Invoices (http://partners.elcomsoft.com/partners/cp/history.html).
After our sales department receives and approves your quote request it will get a status of Invoice and you will receive an email with notification about status change. Your invoice PDF document will be available in the same section Invoices in your online account.
We also highly recommend informing us about your payment by email at sales@elcomsoft.com with your payment details. It will help us to process your order much quicker.